Sending Your Child to Day Care is One of The Best Decision
Sending Your Child to Day Care is One of The Best Decision
Everyone warned you it would be so difficult, but sending your little one to day care might be one of the best parenting decisions. In fact, you might frequently meet other moms who could rattle off their philosophies on sleep training, attachment and all sorts of recommendations on crib or stroller. And you stood there, wondering how all these women seemingly already know how to raise children. On the other hand, you've got no convictions about baby sleeping arrangement, let alone about how to be a mother.
But what you were so sure is to send your child to day care. You knew you would keep working because you had spent over a decade building your career, and you cared about your job, not to mention that it wasn't a financial option for you not to return to work. Day care was a financial necessity too as it costs a fortune, yes, but a nanny costs two fortunes. But who don't love the idea of their kids spending their days hanging out with other kids, being cared for by a team of childcare professionals, in a setting designed for little ones to play and explore.
So How Do You Find The Right Daycare For You? Here Are Some Options To Consider.
If you're looking for a lot of socialization and structure, this option for you. Many centers offer extended drop-off and pickup hours and It's also comforting to know you won't be caught off guard by a solo provider who calls in sick. 
The facility is fully licensed and accredited. 
Day care regulations vary from state to state, but a licensed program should, at the minimum, meet state health and safety standards and have strict caregiver-child ratios 
There's a daily schedule. 
Young infants thrive on routine and structure. But there should be free play for older babies as well because children also need time for discovery.
The curriculum is nicely varied.
If you're planning to keep your child there for the long haul, it's good to know now whether the center emphasizes early academics. One sign to induce confidence is that there's an activity schedule posted for the week, which indicates forethought.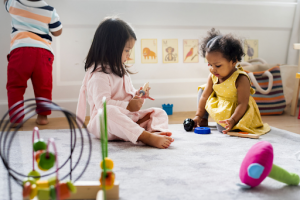 The kids are varied too. 
Diversity is a priority for families who want their children to feel that they fit in as they get older and start to notice their classmates, as well as for families who want their kids to grow up understanding that not everyone has the same background, beliefs, or skin color.
The environment is perfect for your child.
The environment in which your child will spend her days should send a clear message that this is a place for children. Every corner of the physical setting should echo that message. Your child should feel safe, curious, and welcome. Areas should be organized to facilitate safe and active play, socializing, and include semi-private spaces for reading and quiet daydreaming. Toys should be organized on shelves so that children can put them away quickly and easily. 
So Which Day Care Should Be On Your List?


Polka Dot Bear Baby & Child Care Centre
Nurture from cradle to floor, floor to play, play to learning, learning to a completely developed child, Polka Dot Bear Baby is a professional childcare provider linking parental partnership for effective child development from infancy to preschool year. Their focus stretches beyond education to encompass the overall health and wellbeing of every child while promoting and developing a harmonious community through the teaching of high moral values and moulding sound character building.
Address:
Tropicana: A-0-3A, Casa Tropicana,
No 5, Jalan Persiaran Tropicana,
PJU 3, 47410 Petaling Jaya, Selangor.
Tel: +6013-347 1355
Eco Sky:
Unit G-25, Eco Sky,
No. 972, Batu 6 1/2 
Jalan Ipoh, 51200
Kuala Lumpur
Tel: +6017-729 1355
Brainy House is dedicated to providing an environment in which children are encouraged to learn and achieve their true potential through our fun and interactive classes.  They recognize that each child is different and develop at his/her own pace. Their mission is to provide them with a loving and caring environment so that they are not afraid to explore and satisfy their inquisitive love of learning. Their programs focus on providing a holistic learning experience for the child, mentally, physically and socially. Values such as self-discipline, respect and compassion for others and care of materials are part of our curriculum. They believe that a child must not only be able to achieve and perform, but they must also be imparted skills for life-long learning, and values to become a responsible individual.

Address: No. 51 No, 1, Jalan Dutamas 1,
Solaris Dutamas, 50480 Kuala Lumpur


Opened in November 2013, Oasis Square Ara Damansara is the first school within a complex situated in a new bustling township. It is also the first amongst our schools to introduce an award-winning infant care programme for infants as young as three months of age. All the facilities including an indoor playground are thoughtfully planned within this 14,000 square feet space. The rooms in the kindergarten are spacious, well-lit and neatly arranged with engaging learning materials. The indoor playground ensures that the children can enjoy a weather-proof playtime at any time of the year. The children's house daycare not only provides quality learning for your child but also infant care in Ara Damansara.
Address:
Lot F1-23, Block J,
No. 2 Oasis Square, Oasis Damansara,
Jalan PJU 1A/7, 47301 Petaling Jaya, Selangor

Tel: +60 3-6203 3833
Willow Academy is designed with children in mind. They believe in a holistic education where programs are designed to be age-appropriate, contextual and enquiry-based. Sensorial play and outdoor play is an everyday occurrence. They ask questions to encourage thinking and start conversations. They make learning fun! Class size is limited to 5 children per class. Not only are their programs focused on learning, but also bringing out the best in each child in creating a nurturing, empowering environment for the children.

Address:
28, Jalan Sri Hartamas 18,
Sri Hartamas, 50480 Kuala Lumpur.

Tel : +6017-7920481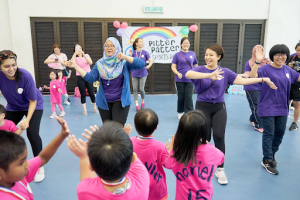 Pitter Patter is the neighbourhood daycare centre that aims to provide security and comfort. With the founder's experiences, she had gathered along the way, together with her passion to work with young children and families. She aims to be an example to others by standing strong in her values which is to provide safe and caring childcare in Malaysia, starting with Pitter Patter using the Play Inquiry approach to learning.

Address:
Ground and 1st Floor, D-12-11,
Block 12, Pusat Perdagangan Dana 1,
Jalan PJU 1a/46, Ara Damansara, 47301 Petaling Jaya, Selangor