The Daycare Providers List That You Must Have
The Daycare Providers List That You Must Have
Increasingly common, early childhood care plays an important role in children's development and provides valuable support to families with young children. It is therefore important to understand the impact of daycare providers and to ensure their quality and accessibility.
What Exactly is Daycare Providers?
Daycare providers have the responsibility of providing safe and engaging programs to meet the needs of children at multiple ages. In addition to providing a place where parents are comfortable leaving their children, daycare providers must meet state requirements for private daycare centres related to safety and care for children. Meeting a child's basic needs serves as the main priority for a daycare provider. These needs include changing diapers, helping children use the toilet, meeting basic hygienic needs and ensuring children are well-fed throughout the day. In order to best meet all children's needs, daycare providers must follow state guidelines for staff-to-children ratios. Ratios typically differ by age level, with lower staff-to-children ratios for infants than for older children.
Furthermore, many daycare providers choose to expose children to educational activities throughout the day to help them grow developmentally and intellectually. This involves planning activities in advance or choosing a published curriculum that offers prepared activities for each age group. In addition to educational options, a daycare provider must offer age-appropriate toys and games for children. For younger children, parents expect a nap time routine to be followed. Parents of infants expect the daycare provider to follow individual feeding and nap time schedules for each child.
Daycare centre is a great option for your child, therefore we have a list of daycare providers.
Polka Dot Bear Baby & Child Care Centre
Nurture from cradle to floor, floor to play, play to learning, learning to a completely developed child, Polka Dot Bear Baby is a professional childcare provider linking parental partnership for effective child development from infancy to preschool year. Their focus stretches beyond education to encompass the overall health and wellbeing of every child while promoting and developing a harmonious community through the teaching of high moral values and moulding sound character building.
Address: Casa Tropicana A-0-3A, No. 5 Jalan Persiaran Tropicana, PJU 3, Petaling Jaya, Malaysia
Tel: +6013-347 1355
Address: Unit G-25, Eco Sky, No. 972, Batu 6 1/2, Jalan Ipoh, 51200,  Kuala Lumpur
Tel: +6017-729 1355
2. Cutie Cottage Childcare Centre
Cutie Cottage Childcare Centre was founded by Ms Yew Tian Tian. With a team of nurses, educators and supporters. The centre has a stringent set of requirements for its staff. The nurses have at least Diploma in Nursing and registered with the Lembaga Jururawat Malaysia (LJM) or a diploma in the related medical field. At Cutie Cottage Childcare Centre, they designed the activities based on the England Curriculum, Early Year Foundation Stage that focuses on the 7 areas of learning. They are Montessori-inspired and believe that character should be built from a very young age. The overall curriculum is designed according to the developmental milestones and characteristics of the respective age group.
Address:  Unit 2A, Terrace Level, Uptown 2, 2, Jalan SS21/37, Damansara Uptown, 47400 Petaling Jaya, Selangor
Tel: 017 656 0278
The Children's House
At The children's house, they are firmly committed to providing a safe, secure, and stimulating environment for our infants aged 2 months onwards. The infant and pre-toddler programme is holistic and focused on optimum periods for learning characteristics of early development in the first three years of life. Using the Montessori approach, they offer a nurturing, non-competitive learning environment which aims to meet the individual needs of each child in his physical, social, emotional and intellectual development. With the environment as an important element, classrooms are well-planned to avoid overcrowding and everything is child-sized and child-friendly.
Address:
Level 1 100-1 1.015 & 017 Block J, The School Jaya One,
72A, Jalan Universiti, Seksyen 13,
46200 Petaling Jaya, Selangor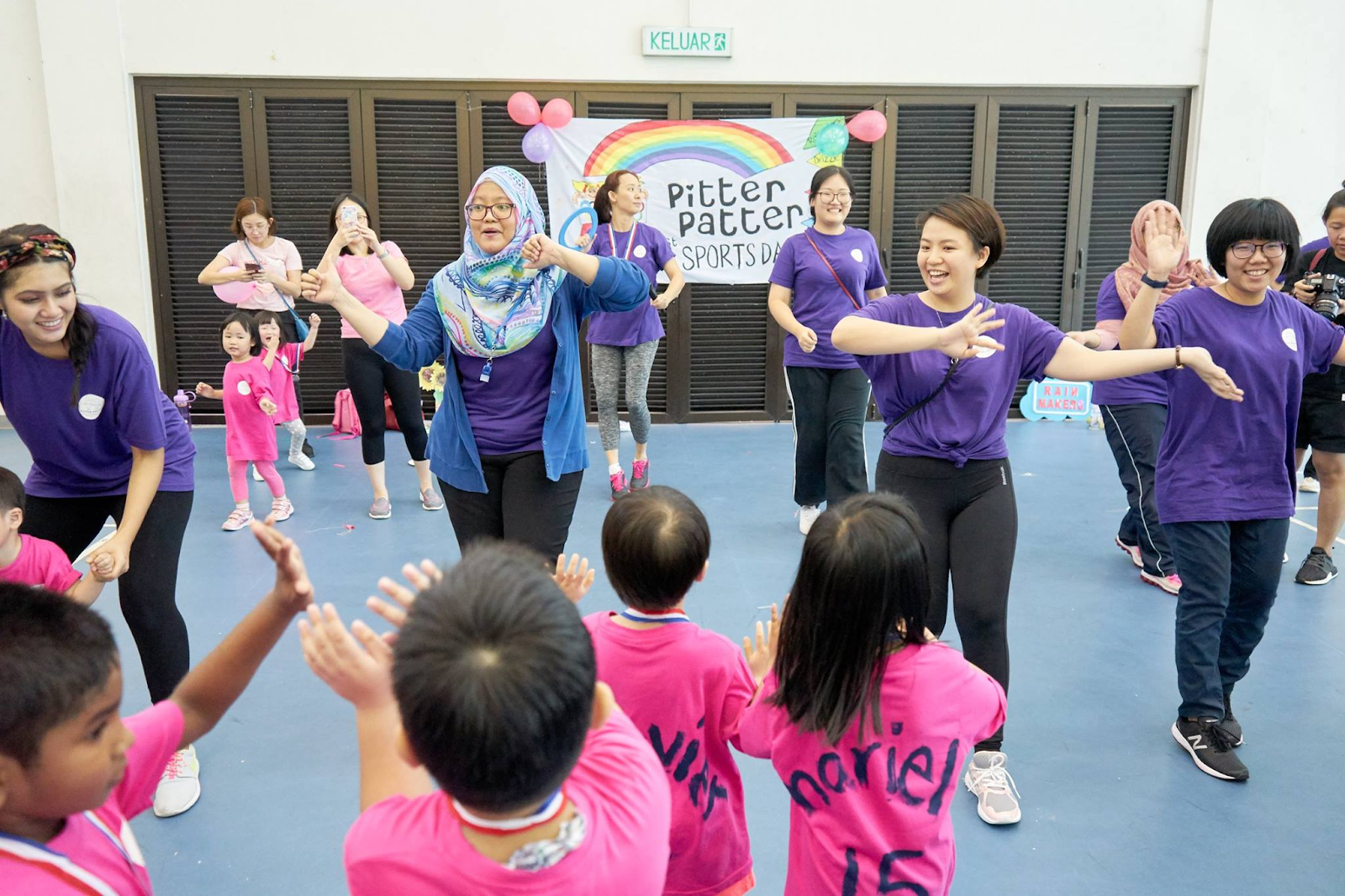 Pitter Patter is the neighbourhood daycare centre that aims to provide security and comfort. With the founder's experiences, she had gathered along the way, together with her passion to work with young children and families. She aims to be an example to others by standing strong in her values which is to provide safe and caring childcare in Malaysia, starting with Pitter Patter using the Play Inquiry approach to learning.

Address:
Ground and 1st Floor, D-12-11,
Block 12, Pusat Perdagangan Dana 1,
Jalan PJU 1a/46, Ara Damansara, 47301 Petaling Jaya, Selangor
Tel: 018-208 6900
Kinderland Educare Services is a member of Crestar Education Group, a leading provider of quality daycare, bilingual kindergarten and preschool education for children 2 months to 6 years of age. Kinderland's curriculum integrates the best education approaches and methodologies from the West and the values of morality and inter-personal relationships of the East. This is achieved through a team of in-house expertise in curriculum research and development, continuous teachers' training and strong affiliations with renowned preschools and institutions of higher learning in different countries.
Address:
Level 2 Maisson By The Park
Jalan PJU 1A/3, Ara Damansara
47301, Petaling Jaya, Selangor.
Tel: 03-7621 1751
R.E.A.L Kids is an aesthetically designed preschool in a mall serving the community in the surrounding area. The programmes offered at the centre are designed to complement our holistic curriculum incorporating Howard Gardner's Multiple Intelligence approach to provide learners with diverse preschool experience. The centre boasts designated facilities such as technology room with an interactive projector, dramatic role-play fitting rooms, gym play area, indoor playground, culinary kitchen and child-friendly kid's toilets. 
Address:
Ev-G-25, Ground Floor, Evolve Concept Mall
Jalan Pju 1a/4, Ara Damansara
Petaling Jaya, Selangor 47301
Tel: +03 7859 6851
Babies and Casa Montessori International Preschool
Babies & Casa Montessori International Preschool thrives on developing values that destine the success of a child from the inside out. What makes them stand out among the rest is we not only focus on academic and mental development, but we emphasize on the importance of creativity, respect, deep and loving attachments, independence, self-awareness and environmental responsibility.
Address: Lot 3-13, Third Floor, 1 Mont Kiara, 1 Jalan Kiara, Mont Kiara, 50480 Kuala Lumpur.
Lil Footprints Infant and Childcare Centre
Lil Footprints Infant and Childcare Centre is a licensed provider of early childhood education and professional child care services for children from the age of 1 month up to 4 years old. The childcare centre is a place where children of different nationalities and cultures meet to explore and discover the world around them. At Lil Footprints, they value the uniqueness of each child and understand that children have their own traits that shape their personalities. They go to great lengths to ensure their need for a secure surrounding, loving tender care and good nutrition are met.

Address:
L4-A, Level 4, The Weld, No. 76, Jalan Raja Chulan, 50200 Kuala Lumpur, Malaysia.
Tel: +603-2078 2991 / +6012-204 3387