The Guide To 1-Year-Old Daycare Near Me
The Guide To 1-Year-Old Daycare Near Me
The optimal age to begin daycare is just after the child's first birthday. At the age of one, they are making leaps in their language, motor skills and social. Even though starting a daycare is a big transition, but the stimulating activities can fulfil a toddler's need to learn and explore.
So The Question, Is Your 1-Year-Old-Ready To Leave Home?
As your toddler transit to daycare, it is normal for them to express their emotions. You may see them get frustrated at the thought of separating from you and being in a different environment full of new faces. In fact, crying is expected and normal, although it can be heartbreaking for parents. Here are a few tips for choosing the best daycare for your child.
Outline your priority and ask the right questions.
Many parents select a daycare centre without asking many questions, only to discover later that it is not a good match. The transition to daycare can cause emotional stress for a child, as well as a strain for the whole family. A better approach is to first determine your needs, both physical such as hours and days and emotional which is important for your child's development. When considering daycare centres, you should ask questions that focus on these priorities. 
Make sure your toddler's development needs are being met.
Just as there are countless of daycare centres, children are obviously different from one to the next, and what works for one child might not work for another. Parents should focus on the developmental stage and understand what their child needs from a caregiver during that stage. For example, the developmental needs of a toddler are much different from a preschooler who may need someone who can run around all day or a daycare centre that knows how to keep children safe, while also nurturing their creativity and independence.
Make sure the environment is clean
Ever since your baby was born, your house hasn't been the tidiest, that's fine. But the daycare centre that you are choosing near you should always feel clean and tidy. However,  a little clutter is bound to happen when kids are playing with toys all day. While you're on a visiting to the daycare centre, look for evidence that teachers clean up after each activity and keep their classrooms tidy. When classrooms are spick and span, it's a great sign that a daycare knows what they're doing.
The List of Best Daycare Near Me
Polka Dot Bear Baby & Child Care Centre
Nurture from cradle to floor, floor to play, play to learning, learning to a completely developed child, Polka Dot Bear Baby is a professional childcare provider linking parental partnership for effective child development from infancy to preschool year. Their focus stretches beyond education to encompass the overall health and wellbeing of every child while promoting and developing a harmonious community through the teaching of high moral values and moulding sound character building.
Address: 
Casa Tropicana A-0-3A,
 No. 5 Jalan Persiaran Tropicana, PJU 3, Petaling Jaya, Malaysia
Tel: +6013-347 1355
Address: Unit G-25, Eco Sky, No. 972, Batu 6 1/2, Jalan Ipoh, 51200,  Kuala Lumpur
Tel: +6017-729 1355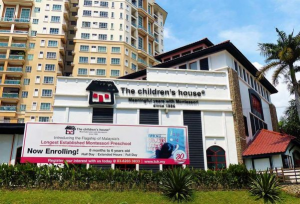 The Children's House

The Children's House Aman Walk is beautifully designed with baby-sized materials and toys to provide your babies with a safe, sensory triggering environment which promotes positive explorative learning to satisfy your baby's thriving curiosity. The programmes available at The children's house Aman Walk is the Montessori Playgroup for infants and toddlers (2 months to 2.5 years) and Nursery (2.6 years to  3 years). At The Children's House, they focus on getting things right at the very start. The Award-Winning curriculum for infants was developed by Learning Vision Singapore, a member of the Busy Bees Southeast Asia family and has proved to be highly popular at our centre at Tunas Kijang, The Central Bank of Malaysia's Corporate Childcare Facility.
Address:
 Lot 15229, Persiaran Dutamas, 
Off Jalan Duta, Sri Hartamas, 50480, Kuala Lumpur.
Tel:  +60 3-6203 3833
Little Human Scholars
The Baby Programme at Little Human Scholars was specifically formed for babies aged 8 months to one and a half years old.  Keeping a very small teacher to child ratio (1 teacher per three children), we ensure that your baby will be kept safe and provide a stimulating environment to grow, learn and explore. Their teachers are specially selected for our baby programme, which is full-day daycare for infants, so they can best fill a nurturing role in a home-like environment where they can safely watch, interact with and work with your child's development. Little Human Scholars is an all-in-one childcare solution.  It is a preschool, playschool, kindergarten, nursery and full-day daycare centre (with extended hours) located in the heart of PJ.
Address:
Little Human Scholars 1 – Preschool No.1, Jalan Bukit 11/2,
46200 Petaling Jaya Selangor Darul Ehsan
Tel: (603) 79321107
Lil' baby Haus

At Lil' Baby Haus, they aim to provide an exemplary One-Stop Centre for baby care services from 3 months to 15 months old. they provide a safe and nurturing "home away from home" where babies can grow and learn every day by exploring and making new discoveries. They believe in providing a special, happy, safe, secure and warm environment that gives you the peace of mind whether you are at work, or just needed some time off. They have experienced staff trained in child care and First Aid. They are delighted to work with you to give your child a fulfilling and enriching experience.
Address:
B-G-12, Gateway Kiaramas,
No. 1 Jalan Desa Kiara,
50490 Kuala Lumpur, Kuala Lumpur
Trinity Kids

Trinity Kids is a member of Plan The Next Gen (TNG) group of schools for children from 2 months old to 12 years old.  Trinity Kids utilises its proprietary TriBrain curriculum to provides a tri-first languages, play-based, values-based and wholesome education that raises compassionate and passionate individuals for the future. They are Malaysia's First Playschool, First Whole Brain Preschool, First Stimulative Baby Care, First Dr Sears Health Coach. 
Address: 
Level G4, Lot 1-3A, Publika Shopping Gallery, 1 Jalan Dutamas 1, KL
Hansel & Gretel Child Development Centre
Hansel & Gretel Child Development Centre is a child-centred programme serving young children from 18 months to six years old. They strongly believe that every child is special. Hence, each child's unique learning styles are respected in their centre. Equipped with a team of qualified, experienced and caring teachers, their centre is secured by 24 hours CCTV surveillance camera and alarm system. Safety gates are installed too. At Hansel & Gretel, you don't have to worry about the meals. Serving nutritious meals with balanced nutrition is their priority. Their menu is carefully planned by a qualified nutritionist.
Address:
No Unit 8-2, Jalan Radin Bagus, Sri Petaling,
 57000 Kuala Lumpur,