What Makes a Best Child Care?
What Makes A Best Child Care?
In 2020 back-to-school will look different for many families, especially throughout the pandemic. Parents are increasingly getting stressed and overwhelmed trying to strike a balance between parenting and providing the best child care for their children. As a matter of fact, our children should be safe, having fun, and learning! However, with updates on school reopening, children are now able to attend classes in person – leaving parents busy to search for the best child care  for their kids.
Nevertheless, it is important to understand that child care is the stepping stone in teaching a child more than just letters and numbers. It is about teaching life skills that will help them thrive as older children and even as adults. Because a child's brain develops rapidly during the first 5 years of life. During these years, children are  trained to develop emotional skills, encourage engagement, and promote curiosity. In this case, child care develops programs that nurture trusting relationships with their peers, teachers, and parents. 



With that said, there are

5 Things That You Should Know When Finding The Best Child Care

.
Look beyond the qualifications of the caregivers.
Don't let a caregiver, child care centre or lingo snow you. A child care caregivers including the director may have an impressive degree, but that doesn't mean every word they say is true or that the center is the right one for your family. The best child care should be able to answer your questions clearly, without using jargon as a smoke screen. The caregivers should be aware of what they were going to do with the kids all day.
A high-quality child care is filled with a sense of engagement. For example, in a 3-year-old classroom, the teacher may be working with a small group on a particular lesson, while the assistant teacher is playing a game with the rest of the children. Each child should feel included and should never just wander and not knowing what to do next. Furthermore, parents should take note on how a caregiver steps in to help the children and how they respond to them. It gives your kid the reassurance because reactions are signs that your kids feel at home at the centre.
Caregivers should know the latest medical advice.
Advice on how to safely care for infants and toddlers changes as new information is discovered. It is important to ensure that your care provider keeps up with the latest recommendations and follows the advice of pediatric associations and other reputable health authorities. For example, the sleep position and crib safety to prevent sudden infant death syndrome and flu immunization for care providers who work with infants.
Child care centres offer structure and a fun environment.
It's good for young children to be introduced to a structured environment that helps them make friends and play well with others. Providing structure doesn't mean caregivers  are constantly correcting children. Caregivers patiently and consistently coach the children, encouraging appropriate behaviors and outcomes. Having thoughtful structure at an early learning center is largely invisible to the children. It does, however, give them a framework of organized spaces and schedules that promote socializing and learning.
Child's Care environment should always be safe.
Children seem to be drawn to dangerous objects and potentially hazardous playthings. Carefully evaluate whether the child care that you choose has all the bases covered in terms of home safety. Child care centres should have a list of safety precautions and procedures and be able to provide detailed explanations of each. Don't forget to ask about drop-off and departure safety protocols and be sure you're comfortable with the answers given.
If this is the perfect time of year for your children to gain key skills through hands-on exploration, creativity, and academics, why not enrol them in a child care centre that focuses on actively learning new skills and strengthening foundations.
Here Are Some Of The Best Child Care Centres. 
Polka Dot Bear Baby & Child Care Centre
Nurture from cradle to floor, floor to play, play to learning, learning to a completely developed child, Polka Dot Bear Baby is a professional childcare provider linking parental partnership for effective child development from infancy to preschool year. Their focus stretches beyond education to encompass the overall health and wellbeing of every child while promoting and developing a harmonious community through the teaching of high moral values and moulding sound character building.
Address: Casa Tropicana A-0-3A, No. 5 Jalan Persiaran Tropicana, PJU 3, Petaling Jaya, Malaysia
Tel: +6013-347 1355
Address: Unit G-25, Eco Sky, No. 972, Batu 6 1/2, Jalan Ipoh, 51200,  Kuala Lumpur
Tel: +6017-729 1355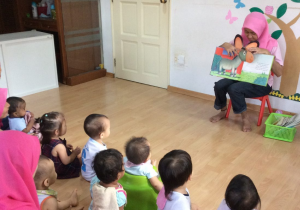 Cutie Cottage Childcare Centre
Cutie Cottage Childcare Centre was founded by Ms Yew Tian Tian. With a team of nurses, educators and supporters. The centre has a stringent set of requirements for its staff. The nurses have at least Diploma in Nursing and registered with the Lembaga Jururawat Malaysia (LJM) or a diploma in the related medical field. At Cutie Cottage Childcare Centre, they designed the activities based on the England Curriculum, Early Year Foundation Stage that focuses on the 7 areas of learning. They are Montessori-inspired and believe that character should be built from a very young age. The overall curriculum is designed according to the developmental milestones and characteristics of the respective age group.
Address:  Unit 2A, Terrace Level, Uptown 2, 2, Jalan SS21/37, Damansara Uptown, 47400 Petaling Jaya, Selangor
Tel: 017 656 0278
At The children's house, they are firmly committed to providing a safe, secure, and stimulating environment for our infants aged 2 months onwards. The infant and pre-toddler programme is holistic and focused on optimum periods for learning characteristics of early development in the first three years of life. Using the Montessori approach, they offer a nurturing, non-competitive learning environment which aims to meet the individual needs of each child in his physical, social, emotional and intellectual development. With the environment as an important element, classrooms are well-planned to avoid overcrowding and everything is child-sized and child-friendly.
Address:
Level 1 100-1 1.015 & 017 Block J, The School Jaya One,
72A, Jalan Universiti, Seksyen 13,
46200 Petaling Jaya, Selangor
Little Human Scholars



The Baby Programme at Little Human Scholars was specifically formed for babies aged 8 months to one and a half years old.  Keeping a very small teacher to child ratio (1 teacher per three children), we ensure that your baby will be kept safe and provide a stimulating environment to grow, learn and explore. Their teachers are specially selected for our baby programme, which is full-day daycare for infants, so they can best fill a nurturing role in a home-like environment where they can safely watch, interact with and work with your child's development. Little Human Scholars is an all-in-one childcare solution.  It is a preschool, playschool, kindergarten, nursery and full day daycare centre (with extended hours) located in the heart of PJ.
Address:
Little Human Scholars 1 – Preschool
No.1, Jalan Bukit 11/2,
46200 Petaling Jaya
Selangor Darul Ehsan
Tel: (603) 79321107
Tree Dolphin Childcare Centre
Tree Dolphin Childcare Centre provide Kindergarten Programme for 3-6 year old (Melaka) & Childcare Centre for 2months-4 year old (Selangor). They provide a holistic childhood education that nurtures the lifelong potential of every child while Instilling positive moral values, encouraging physical fitness and unleashing the creative talents in every child. They aim to inspire proactive attitude and determination in children in a non-threatening manner as well as utilize a thematic approach in project activities by using recycled and self made resources.Last but not least, Tree Dolphin Childcare Centre is where children are exposed to the beauty and wonders of nature and to teach them to take care of our environment.
Address: No. F-1, 11, Jalan PJU 1a/20d, Dataran Ara Damansara, 47301 Petaling Jaya, Selangor.
Tel:  012-268 9232