Have You Chosen The Best Preschool in Petaling Jaya?
Have You Chosen The Best Preschool in Petaling Jaya?
In our modern day, it can be challenging to know what is best for our children with regard to preschool, especially since every child and family is located differently. Despite the differences, there is something the majority of families have in common and are wondering, at what age it is suitable for their child to go to preschool? And beyond that, which best preschool in Petaling Jaya should I look for?

In fact, at the ages between 2 and 3 years old, every parent has the option of placing their child in preschool. Some parents may ask, "Why preschool? Isn't my child learning enough at home or with a caregiver?" Of course, nothing takes the place of a nurturing and loving home, and no one is more important to children than their parents. But with a quality preschool in Petaling Jaya, children have higher math and reading skills that prepared them better for kindergarten.


Why P
reschools Instead of Daycare in Petaling Jaya?
Preschool can help our little ones develop their gross motor skills, their social and emotional skills, plus it's wonderful to have an additional set of adults who care for them. However, there are plenty of preschools in Petaling Jaya to choose from, such as Montessori schools, a preschool with toddler programs, or even preschool that focuses on play-based learning that emphasizes academics. Preschools often emphasize on learning and development compared to traditional daycare. Because daycare centres provide a more convenient option for parents who need a safe yet affordable place for their child. However, preschool teachers may be more likely to have additional training in early childhood education who are experienced in infant, toddler, and preschool learning.

Preschool play an important part in raising kids in the 21st Century, which makes choosing a preschool a very serious decision for parents. And no matter which one you choose, you're sure to find one that's right for your child in the list we have of terrific preschools in Petaling Jaya.
Top 5 Best Preschool in Petaling Jaya

1. Polka Dot Bear Baby & Child Care Centre
Nurture from cradle to floor, floor to play, play to learning, learning to a completely developed child, Polka Dot Bear Baby is a professional childcare provider linking parental partnership for effective child development from infancy to preschool year. Their focus stretches beyond education to encompass the overall health and wellbeing of every child while promoting and developing a harmonious community through the teaching of high moral values and moulding sound character building.
Address: Casa Tropicana A-0-3A, No. 5 Jalan Persiaran Tropicana, PJU 3, Petaling Jaya, Malaysia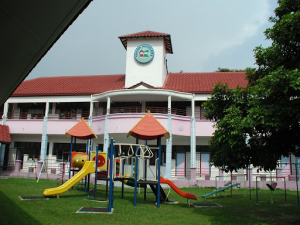 2. Madeleine Kindergarten
Madeleine Kindergarten is the pioneer Kindergarten in Petaling Jaya District and was established in 1955. ​It has a noteworthy history of achievements as one of the first child development centres born in the nation of Malaysia.  This preschool provides a nurturing environment and a range of programs for toddlers and preschoolers. The company's philosophy lets children receive customized learning experience designed to encourage creativity, exploration, and social skills, giving kids a safe, enriching place to learn and grow.

Address:
6, Jalan Othman, Section 1,
Petaling Jaya, 46000 Petaling Jaya, Selangor, Malaysia

3. R.E.A.L Kids
Founded back in 1986, R.E.A.L Kids is a transformation of an earlier iteration known as Child Enrichment Centre (CEC). They are located in Johor, Kuala Lumpur, Melaka, Negeri Sembilan, Penang, Petaling Jaya, Putrajaya, Selangor, Shah Alam and Subang Jaya. Today, they are the country's largest owner-operated kindergarten chain with more than 30 centres and 5,000 students nationwide. Their complete programmes comprising a host of enrichment lessons and extracurricular activities complement our fully developed and holistic curriculum in preparation for both national and international syllabus.

Address:
No. 20, Jalan SS1/16A, Kampung Tunku
Petaling Jaya, Selangor 47300
Malaysia
4. JoyKids International Preschool
Integrating Montessori and Thematic curriculums, JoyKids International Preschool aims to nurture each child to reach their highest potential that promotes the holistic growth of the child within safety and nurturing environment. They are very passionate about their children and that a strong foundation is essential for their future success. They respect every child's personality and truly believe in their potential to become capable, highly responsible and confident individuals. They believe all these can be cultivated through education.
Address: 
Bukit Utama The Club, 1,
Club Drive, Bandar Utama,
47800 Petaling Jaya, Selangor, Malaysia

5. Pitter Patter Early Learning Centre and Childcare 
Pitter Patter is your friendly neighbourhood childcare centre. We aim to provide you comfort and security and most of all, a great learning environment.  Pitter Patter Early Learning Centre and is best known as the place where they can feel assured that their children from age 8 months to 6 years will be given a holistic trilingual (English, Mandarin and Bahasa) Play-Based learning environment, that prepares them for any primary education choice of SK, SJKC or International School. Pitter Patter was established in 2016 at Pacific Place, Ara Damansara, and is now located in a 2-storey spacious learning environment.

Address:
D12-11-1, Dana 1 Commercial Centre, Jalan 1A/4,
Ara Damansara, Petaling Jaya, Selangor 47301
Malaysia

The Best Preschool in Petaling Jaya Helps Your Children to Grow
For many children, preschool is their first experience in a structured setting with teachers and groups of children. It's an opportunity to learn to share, follow instructions, and begin the foundation for learning that will occur in elementary school. In fact, high-quality preschool programs nurture warm relationships among children, teachers and parents. Children thrive when there is consistency in care between home and school. Therefore, the best preschools value parents and parents get daily reports on their child's activities and regular meetings are scheduled for more in-depth conferences with staff. Teachers strive to understand and respect parents' child-rearing goals and values.

Nevertheless, preschool is an opportunity for children to be in a structured setting with teachers and groups of children where they will learn to share and follow instructions, raise their hand when they want to ask a question, take turns, and share the teacher's attention. After all, every child should have this sort of group experience before they start school.