Choosing The Right Infant Care in Kuala Lumpur
Choosing The Right Infant Care in Kuala Lumpur
While we are all excited about enrolling our precious little one into their first infant care centre for a bright future. Brochures and flyers at hand, yet you find yourself lost and confused. As a matter of fact, we've all once been kids too, we all know how dreadful it can feel when we are left alone at a centre. To most of us, separation is never fun. The same goes to our babies now, we understand how they feel about being separate from their parents but as parents, we would want them to do be well-cared.
Are You Ready to Pick an Infant Care in Kuala Lumpur?
This is the part where nerve-wracking moments have arrived. It is now time to get back to work as we cross out the last of our maternal leave off the calendar. The moment where you have been getting ready for childcare assistant or infant care centre in Kuala Lumpur for your precious little one while you get back to work. Choosing an infant care centre can really be daunting because who enjoys being apart from their babies. But moms need to do what a mom needs to do.


So, How Do You Pick the Infant Care in Kuala Lumpur that You Prefer?
Whether it's your first child or second child, finding the best infant care option in Kuala Lumpur for your family comes with its share of challenges. Most parents are looking at factors like cost, hours, location, safety, and child-teacher ratio, but of course, another major requirement is an environment that's warm, inviting, and family-friendly. While trying to find the perfect infant care can make any parent anxious, the relationships and beautiful memories you'll create as a family will make all the effort worthwhile.
Find a place that follows your baby's schedule.
During your time at home with your baby, you've found a routine that your baby sleeps and eat that works best for your family. So make sure to choose the infant care centre that will honour it. Even though there are times when the little one's schedules are unpredictable, the right infant care will work with you to follow your baby's routine as closely as possible. However, there is also the infant care centre that enforces naps at certain times, you should look for a place that pays attention to when your baby needs to sleep. Caregivers should know how to watch each child closely for signs of tiredness. For example, eye-rubbing, sucking on hands or fingers, and heavy-headed nodding are all signs that it's time for some shut-eye.
Intuition Is Everything
You may not know it on your first visit to infant care, but your intuition about the caregivers and environment is everything. As such, when searching for an infant care option, you should know exactly what you wanted. For instance, you and your spouse already had a specific idea of what you wanted it to look and feel like. Walking in and feeling that warmth, and that your children would be safe there. Even though it might not be the most convenient choice, it was the choice that made you feel the safest, not worrying about whether or not whether your baby would be fine. A great infant care should make you feel welcome, safe, and supported. Hence, if you are looking for an infant care program, make sure your information needs are met, and where your instincts about your child's needs are fulfilled.
Make sure the environment is clean
Ever since your baby was born, your house hasn't been the tidiest, that's fine. But the infant care that you are choosing in Kuala Lumpur should always feel clean and tidy. However,  a little clutter is bound to happen when kids are playing with toys all day. While you're on a visiting to the care centre, look for evidence that teachers clean up after each activity and keep their classrooms tidy. When classrooms are spick and span, it's a great sign that a daycare knows what they're doing.
Top 5 Infant Care Centre in Kuala Lumpur

ABC Nursery, Bangsar
ABC Nursery is an Early Childhood Education Centre in Bangsar with a history of over three decades that provide a conducive and prepared environment for children to enhance their learning readiness. At ABC Nursery, the education is focused on the balanced development of a child's physical, emotional, social and intellectual skills through learning experiences both in the school and the community. Therefore, loads of events and activities are created and organized with the involvement of parents and even the community.
Address:
No. 280, Lorong Maarof,
Bukit Bandaraya, Bangsar, Kuala Lumpur 59000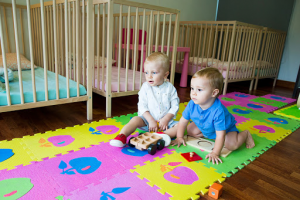 Kid's Cove

A place full of imagination, creativity and fun. At Kid's Cove, they endeavour to help your children discover their inner part and their desire to learn, to create, to grow and complete their own personal puzzle happily and building on each one's individual qualities and strength. Their Infant care and nursery services are one of the most fragile spheres of their operations in Kids Cove centre in Bangsar, Kuala Lumpur. Each day they continue working with your infant and progress them successfully through all of the stages of infant development. While infants cannot speak they can still communicate. Whether be it crying or the sounds that they make to express their needs, their intuitive staffs are in tune to what your infant needs every moment of the day to ensure that their hunger, anger or cries are attended to.
Address:
36, Jalan Keruing, Bangsar, 
59100 Kuala Lumpur, 
Wilayah Persekutuan Kuala Lumpur
Polka Dot Bear Baby & Child Care Centre
Nurture from cradle to floor, floor to play, play to learning, learning to a completely developed child, Polka Dot Bear Baby is a professional childcare provider linking parental partnership for effective child development from infancy to preschool year. Their focus stretches beyond education to encompass the overall health and wellbeing of every child while promoting and developing a harmonious community through the teaching of high moral values and moulding sound character building.
Address:
Unit G-25, Eco Sky,
No. 972, Batu 6 1/2
Jalan Ipoh, 51200  Kuala Lumpur
New Sun Moon Kindergarten
At New Sun Moon Kindergarten, they provide the curriculum which aims to guide children on this next step as they develop school readiness in all areas of academic learning and social preparedness. Besides, we do stimulate children's curiosity through the day with weekly or monthly planned activities, paint, craft, storytime, music and movement, structural play, imagination play, drama and role-play. 
Address:
21-1, 21-2, 23-1 & 23-2,
Jln Sri Permaisuri 9
Kuala Lumpur, Malaysia
Lil' baby Haus

At Lil' Baby Haus, they aim to provide an exemplary One-Stop Centre for baby care services from 3 months to 15 months old. they provide a safe and nurturing "home away from home" where babies can grow and learn every day by exploring and making new discoveries. They believe in providing a special, happy, safe, secure and warm environment that gives you the peace of mind whether you are at work, or just needed some time off. They have experienced staff trained in child care and First Aid. They are delighted to work with you to give your child a fulfilling and enriching experience.
Address:
B-G-12, Gateway Kiaramas,
No. 1 Jalan Desa Kiara,
50490 Kuala Lumpur, Kuala Lumpur