The Perfect Guide For Parents in Adjusting Their Infant to Daycare
The Perfect Guide For Parents in Adjusting Their Infant to Daycare
A child's first daycare is the first major change that they will be going through. Whether you are adjusting your baby to a childcare centre, a home daycare, a nanny or with family, it can be a challenge to get out the door in the morning. In fact, leaving your precious baby in a daycare for the first time is hard. You had this magical bonding time and getting to know your baby, you were their round the clock primary caregiver.
As the first day of daycare is approaching, your last day of being with your baby 24/7 is also just around the corner. This milestone might impact you in a major way whether it is mentally, physically or emotionally. But it will definitely be fine as you go along.
Nevertheless, the transition from being home with mom or another family member to being in a daycare setting can be tough for little ones, even when the caregivers are top-notch and the environment is loving. To help your infant with the transition, we have put together some tips to help make the transition a little bit easier for everyone.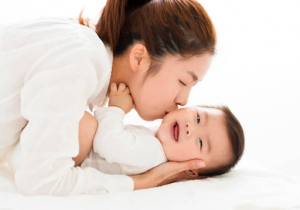 So, How Do You Prepare for Adjusting Your Infant's First Day at Daycare?
1. Visit the daycare more than once.
Enrolling your infant in a daycare centre presents a whole new level of adjustment issues, not only your baby with a new caregiver but also an entirely new environment. If you're preparing your infant for daycare, you need to have them to get used to the idea before going to daycare for the first time, the smoother the transition is likely to be.
One of the best ways to put your child at ease prior to starting a daycare is to have them visit the facility more than once, for short visits. They can interact with the primary caregiver at the facility, as well as with the other children that will be in their room. The first few weeks of the transition might take some time before your child is ready to participate with their classmates. In this case, you need to be supportive of your child and not push them into playing with or talking to others if they are not comfortable doing so.
2. Be comfortable in telling the daycare about your issue.
You know your baby best and daycare get to know them better through you. Even things you feel are a personal matter, they matter to the caregivers. For example, if your baby is having issues going from breast to bottle or you're still trying to find a bottle nipple level that works, those kinds of things are very helpful for caregivers to know about because the daycare can work with you to work with baby. Knowing these kinds of ins-and-outs of baby's daily life prior to spending the day with their provider will make the transition much smoother for everyone but especially your baby. Besides, you should also consider talking to your daycare provider about include sleep routines, typical feeding times, and of course any allergies or sensitivities.
3. Leave a comfort item.
If your daycare allows it, give your child a comfort object to help them during moments of separation anxiety. For instance, letting them know that they can keep it safe for you until you get back to pick her up helps children trust and remember that you will always come back to get them. A beloved toy or family photo often does the trick. Your child can place this memento in their cubby for safekeeping, and if they ever feel homesick, all they'll have to do is grab it.
Give them a proper goodbye.
Weeks before the daycare, you can start by leaving your baby for an hour a day, then add by increments and gradually lengthen the day. However, if you do a prolonged goodbye, this can be more distressful than reassuring. It's very normal to be stressed, and you might cry after you have left. In fact, you will probably cry more than the baby. Most importantly, give your baby need a proper goodbye as it builds trust. If mom or dad sneaks out, the child is more stressed and it takes a lot longer to calm down. Last but not least, make sure the caregiver is there to support, comfort or distract your baby.
4. Talk it through.
Prior to the weeks of adjusting your child to daycare, you can start by reading books with your child about going to daycare and talk about their feelings. You can explain why this arrangement is good for them, for instance, they get to make friends or get to play and so on. Besides, you need to always be reassuring and remain positive because your baby is likely to adopt your outlook. On the other hand, you need to repeat the story once daycare starts for continued reassurance. Reading a picture book about going to daycare is another option, as is sharing a picture of the teacher or classroom.
What Are The Essential Items For Your Infant When Adjusting To Daycare?
1. Diapers.
At the beginning of every week, bring in a pack of diapers to the daycare. If you're unsure how many diapers your baby will need, pack at least eight diapers per day or pack a few extra diapers just in case. If you're using cloth diapers, make sure to include extra plastic pants and a resealable bag or container for the dirty ones.
2. Cream or ointment.
Parents have different preferences on this one. Some people don't want the daycare to use any medication, and others do. Use your discretion about how often you need to send in a new cream or any at all.
3. Toy
If your baby has a favoured toy, it might be wise to pack this toy daily. It will come in handy if your baby needs it to sleep or is particularly fussy, but you need to check the daycare centre's policy on bringing in stuffed items.
4. Extra clothing.
Send two or three extra sets of clothes in resealable plastic bags. These extras can be kept in your bag that stays at the daycare. Caregivers can use the plastic bags to send home dirty clothes.
Nevertheless, every care provider will have policies and suggestions about supplies, so find out what those are ahead of time. You will feel more confident when you follow a detailed daycare packing list for babies.